---
---
Printed with light

We're changing the way you experience art. Picking kickass designs and infusing them with selective lighting to bring out the best in them. It's showtime!

01

Touch the difference

Special engravings, slick finishes, lots of printing sorcery. The acrylic front panel seals in all the flavor.

02

Secret lighting layer

The OLED panels illuminate key parts of the artwork, giving it that special glow.

03

The binder

The layer tasked with the most important job of all: tying everything together.

04

Putting on the shine

Carries the metallic, holo, and glitter effects, even when the viewing angle changes.

05

The star of the show

The design we chose to take on this luminous journey and shine some light on.

06

Sturdy metal backplate

That's where you stick that extra strong 3D Magnet that specializes in wall-hugging.


You've got the power!
Use the cable or powerbank included in the package.
Your very own Lumino
Each Lumino has a serial number and comes signed by our master craftsman – that's how you know you've got unique collectible in your hands.
Displate Club members get 24h early access and the chance to grab the new Lumino designs sporting low serial numbers.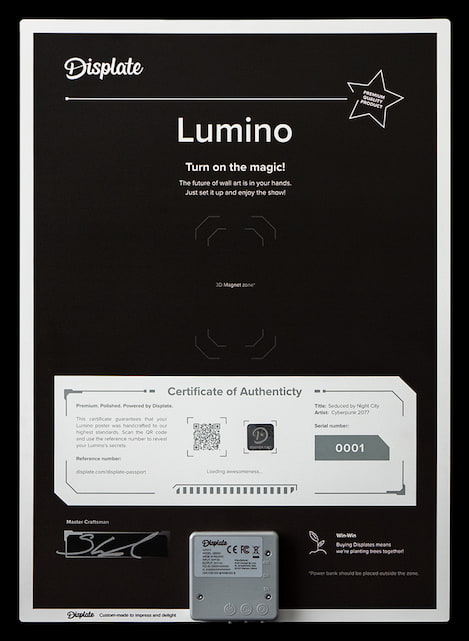 Frequently asked questions
What is it? Is it a Displate?
Displates are high-quality metal posters printed in different sizes. Lumino is a premium variant with ultra-thin, animated OLED lights built in between its layers. It has a front acrylic panel on a metal backplate, and only comes in size M. You could say it is similar to a regular Displate but evolved for future generations of collectors!
Yes. Every Lumino artwork is printed in limited quantities (different per design). Design is sold until stock is depleted or 12 weeks - whichever comes first. Every Lumino is numbered, with a certificate and a hologram. We allow for the possibility of resuming sales of particular Lumino designs in the future (but only for Luminos released after September 29, 2023).
That depends on the artwork. Every Lumino artwork is handcrafted similarly to Limited and Ultra Limited Edition Displates. Our designers choose the best finishes to complement the artwork. For example, Lumino OLED lights are hidden beneath a thin acrylic panel; sometimes, we let it shine or cover it with matte paint.
Lumino technology has a patent pending. Moreover, we design non-licensed artworks from scratch to work best with the Lumino OLED lights. The officially licensed art is also modified to work with our technology, so yeah, it's quite an exclusive product.
You can power Lumino with the following:
Power bank included in the package. A fully charged 10.000 mAh power bank should fuel the Lumino for over 20 hours. You can recharge the power bank through the second USB port in Lumino, so you don't have to take it off the wall
A phone charger or any electronic device with a USB port
(*spoiler alert*) Displate Ambient Light, our upcoming mounting system with smart LED lights and built-in battery cells
How much power does Lumino use?
If you want to turn on your Lumino, a 1 Amper power source is enough. However, if you want to charge the connected power bank or energize another device while admiring your Lumino, you must use a 3 Ampers power source. Remember to use only 5 Volts power source in such cases.
For how long will the Lumino OLED lights last?
10.000 hours before they might start to dim a little. Please note that Lumino is designed for home use only and will not work properly when used commercially, for example, as a store or club display.
How bright are the lights? Can I turn off the animations?
It's bright like an average smartphone screen with brightness set to 80%. You definitely cannot use Lumino as a lamp. And yes, you can turn off the animations and use constant light mode.
How do I mount Lumino on the wall?
Please use the new 3D Magnet included in the package. Lumino electronic components can break, so we invented a heavy-duty mounting system that works on every surface and holds up to 7 kilograms (15 pounds). You will need to drill three holes, but we designed the mounting process as simple as possible. Download the manual
here
. In the future, you will also be able to mount Lumino on (
*spoiler alert*
) Displate Ambient Light.
What's the distance from the wall in millimeters and inches?
The distance between the wall and the back of Lumino is 36 mm (1,4'').
Does Lumino have a warranty?
Yes, we provide 2 years warranty from the date of Lumino delivery. You will find more details about the conditions for the warranty in clause 3.27 of our Terms of Use. Additionally, we offer our traditional 100 days of full satisfaction guarantee.
Start your collection with one-of-a-kind metal posters
Change your wallview with our vast selection of regular Displates! Over 1.5 million unique designs starting at only $44 each!
---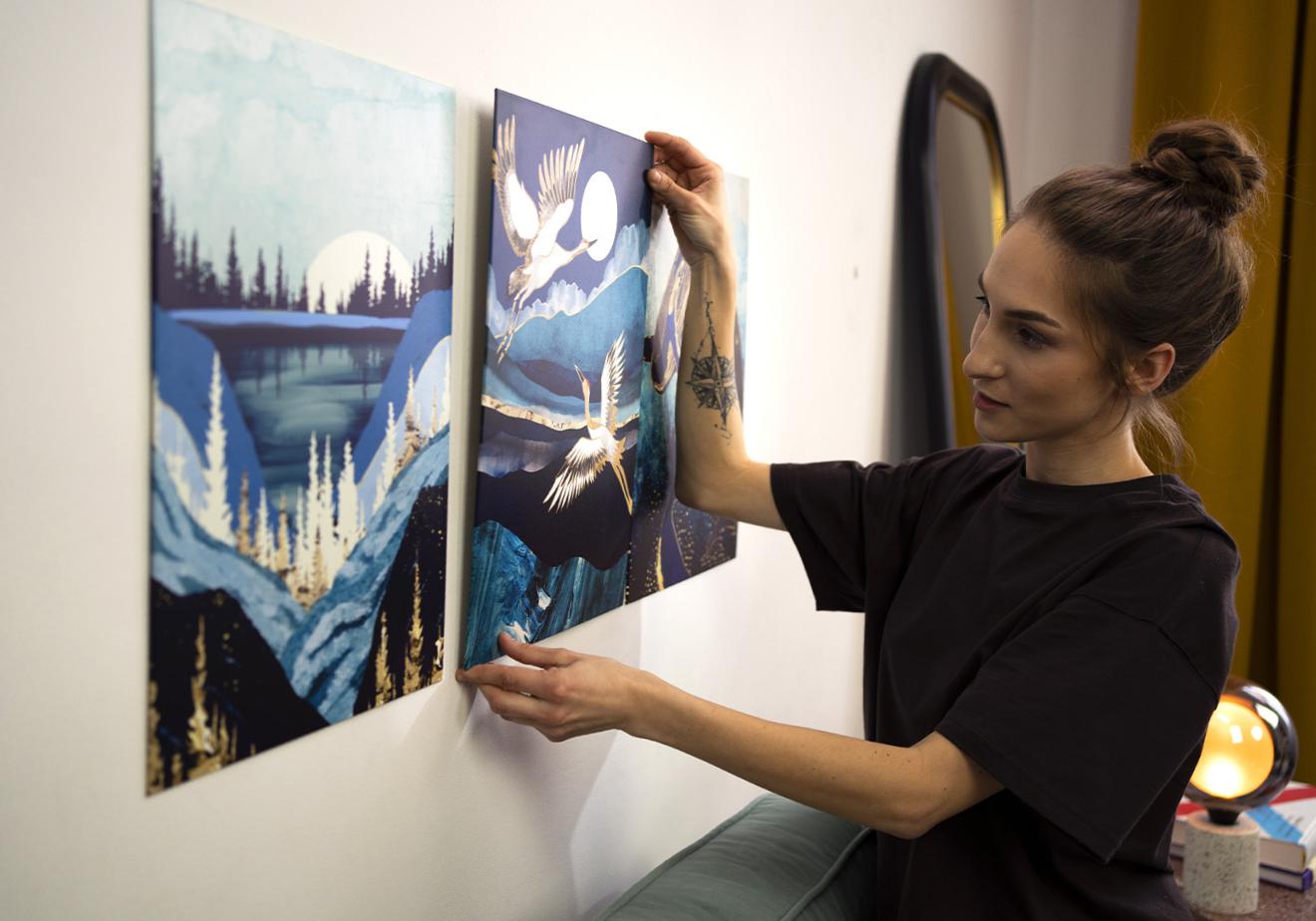 Sign up and never miss a deal
Join our newsletter for the latest discounts and Displate goodies
By clicking "Sign up", you agree to receive the newsletter by e-mail from Displate. The data controller of your personal data is Displate, i.e. GWD Concept Sp. z o. o. Your personal data is processed for a purpose of sending newsletter. The consent may be withdrawn at any time without affecting the legality of the processing performed before its withdrawal. For more information about the processing of your personal data, including your rights or the newsletter please see Privacy policy or Terms of Use.